Cześć! Greetings to everyone. I had to say it in Polish as the theme of this post is very Polish!
This tiny model is made by Polish manufacturer Arma Hobby and they make several versions of the famous PZL aircraft, PZL standing for 'Państwowe Zakłady Lotnicze (State Aviation Works)'.
Arma Hobby have not been in existence long and I have not made one of their models before. However, I have to say I was very impressed with the overall quality and level of detail and am now tempted by other models in their relatively limited range.
This version caught my eye because it was operated by the K.O.P (Korpus Ochrony Pogranicza-Border Defence Corps) in the Kresy Wschodnie or simply Kresy, Eastern Borderlands or Borderlands, the eastern part of the Second Polish Republic during the interwar period (1918-39).
The K.O.P. was the Police Force which my Father remembered well:
'A special police force, the K.O.P (Korpus Ochrony Pogranicza-Border Guard Corps), which operated only in the kresy wschodnie or eastern borderlands, was also sent to Galicia. These police wore a greenish uniform similar to the Army's and they arrived on horseback or in vans. Their sirens wailed as they approached and the villagers would run into the forests to hide'. Page 42 from 'God Save Me From My Friends, memoir of a Ukrainian exile'. Kindle Version.
There is an interesting article about the Kresy on Wikipedia:
https://en.wikipedia.org/wiki/Kresy
As for the aircraft history, it's all here again on Wiki:
https://en.wikipedia.org/wiki/PZL_P.11
My Father recalled seeing a Polish plane crash near his village:
'A small Polish plane of just wood and canvas crashed in a field near our village, breaking its undercarriage. It was loaded on top of a big farm-cart drawn by a pair of horses and hauled to a yard that would later become part of the collective farm. The pilot, wearing a fur coat and felt boots, wasn't hurt and I heard him describing to a policeman how he had been forced to land because of a bushing that had overheated and started to smoke. However, instead of trying to land parallel to the fields, he had cut across them and hit a mezha or boundary-strip used in our district for partitioning the land. The people were very excited and curious, never having seen a plane at close quarters. The children crawled all over it and I clambered into the open cockpit and played with the lever controls, making the flaps and rudder turn. I don't recall seeing a machine mounted on the fuselage and so perhaps it fired through its propeller.'
page 44 Kindle ed.
This incident took place at the start of the German invasion in 1939. I haven't been able to work out what type of plane it was, or if it flew with the K.O.P. but it may well have been a PZL P.11.
Anyway, this was the version I had to go for! It was quite fiddly and a bit of a challenge but I am quite pleased with the final result. The radio antennae are made from stretched sprue apart from the straight piece on the fin which is fine wire. They are a little out of scale but will have to do!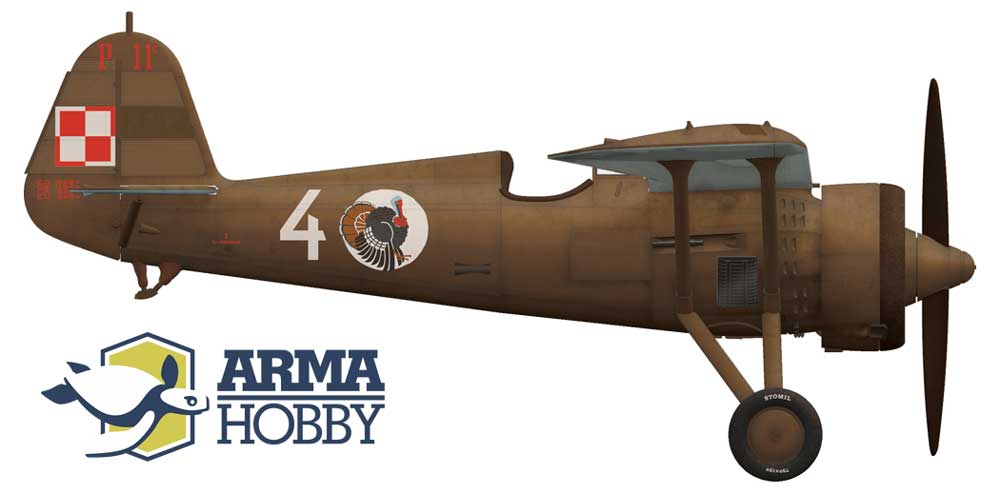 And for a fitting finale!